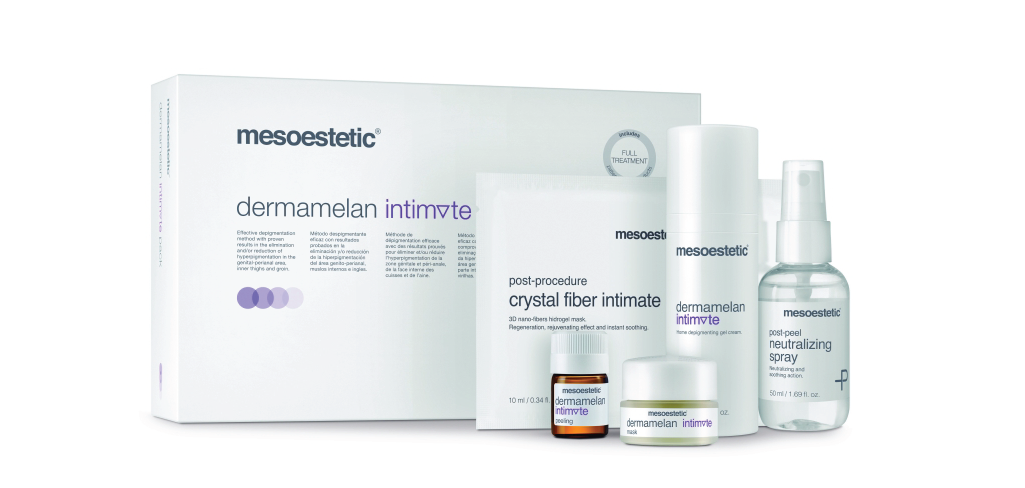 AESTHETIC-GYNAECOLOGY
is a new medical subspeciality for recovering
genital harmony and improve sexual health in women.
Female genital aesthetics is increasingly important, as it solves roblems suffered by women for many years without any solution.



45% of european women ending their fertile age suffer symptoms of vaginal atrophy



It is estimated that nearly 50% of adult women experience urinary incontinence, and only 25 to 61% of symptomatic community-dwelling women seek care.



Intimate rejuvenation has experienced in 2017 a +23% increase worldwide, placing as the aesthetic procedure with highest growth.
Gynaecoaesthetics by mesoestetic
New intimate depigmentation method
Depigmentation
Depigmentation treatment of genito perineal area, perianal area, mons pubis and inner side of thighs and groins.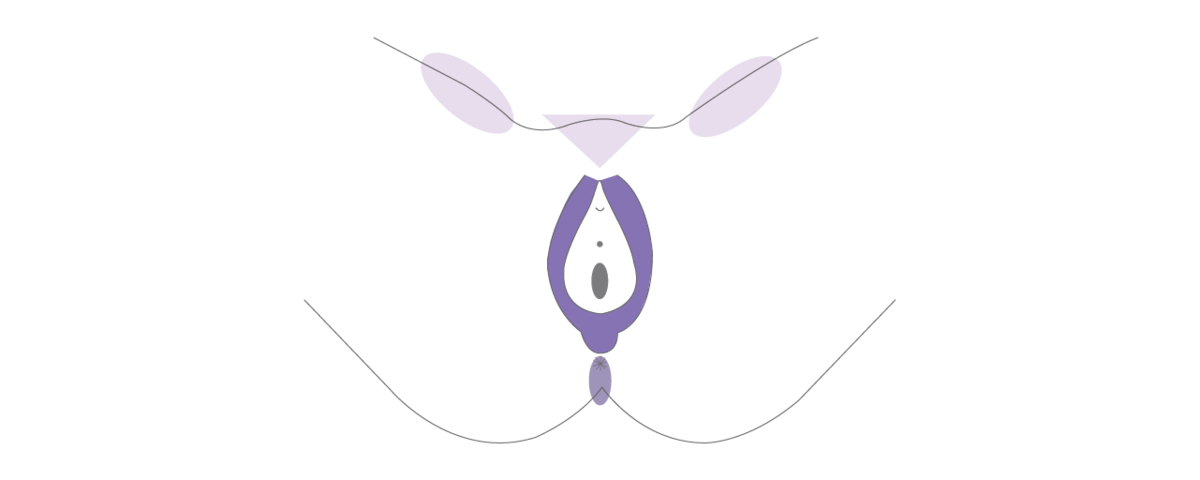 Triggering factors
of intimate hyperpigmentation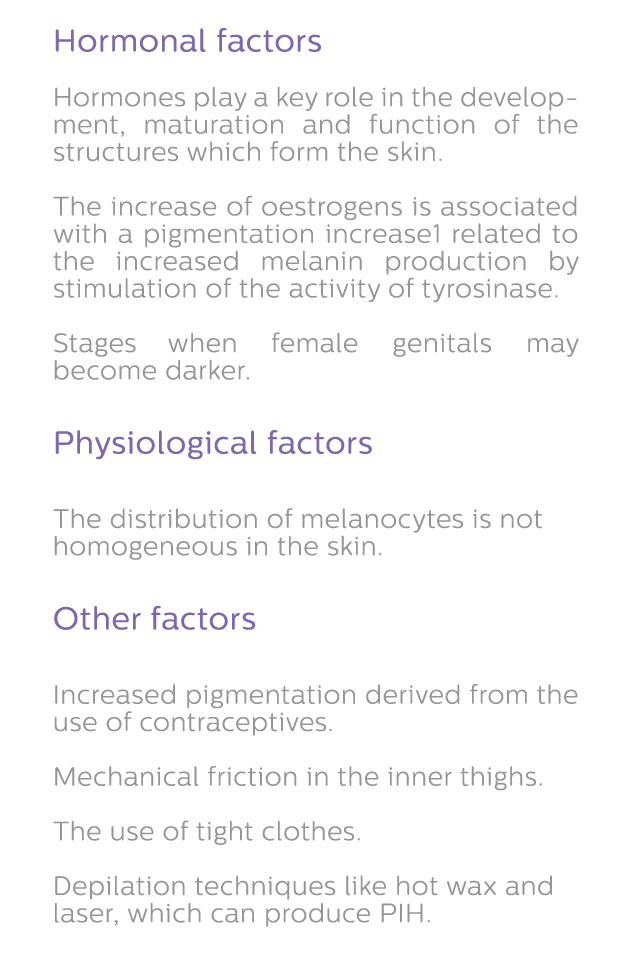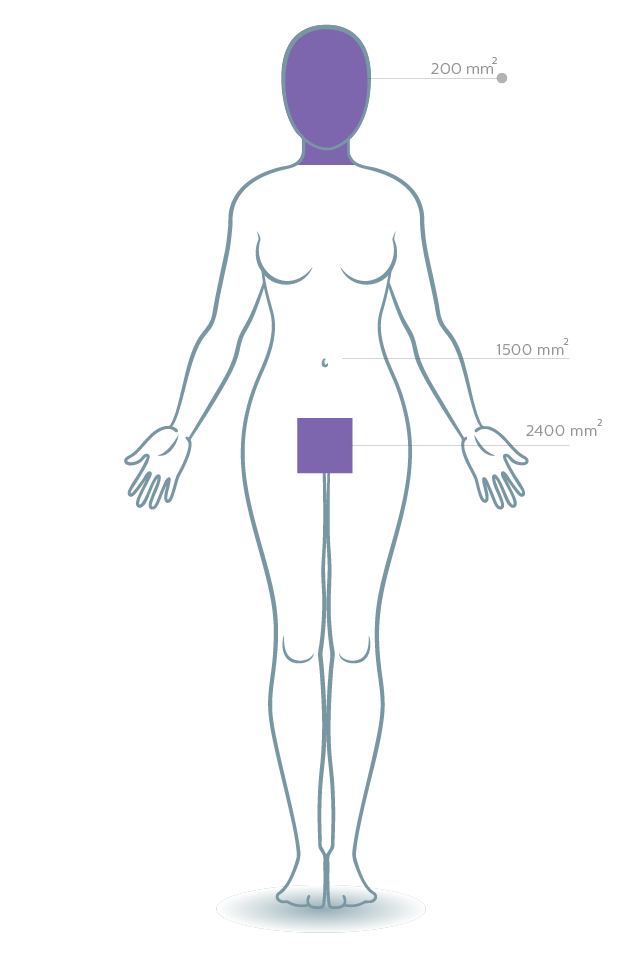 Dermamelan intimate method
Based on a dual action: CORRECTIVE & REGULATORY

PHASE 1: Protocol at the clinic
Step 1: Mesolips protector
Before starting the treatment, clean the area with gauze and warm water and apply
mesolips protector to protect the mucosa, labia.
Step 2: dermamelan intimate peeling
Concentration of active ingredients with keratolytic action for improving skin texture,tone and brightness.

Decreases cohesion of keratinocytes enhancing detachment and increasing epidermal volume.

Promotes absorption and permeability of the active ingredients that will be applied in subsequent steps.
Step 3: Post-peel neutralizing spray
Indicated for neutralisation of dermamelan intimate peeling.
Requilibrates and soothes the skin.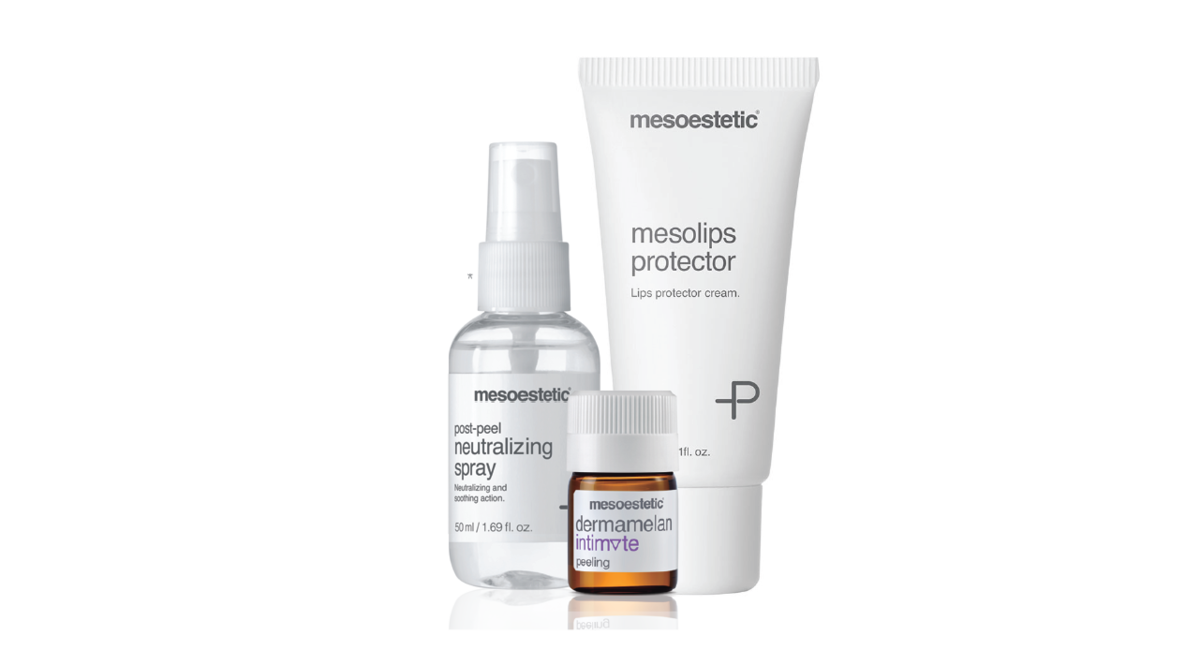 Step 4: dermamelan intimate mask
Complex of depigmentating encapsulated active ingredients that act inhibiting tyrosinase supplemented with other active ingredients which act in the different melanogenesis processes.

Stimulates intensively cell renewal regulating melanin concentration in the upper layers.

Step 5:dermamelan intimate occlusive film


Accelerates product penetration and generates an occlusive effect.

Exclusively design film for dermamelan intimate method.

It does not deteriorate with mask components.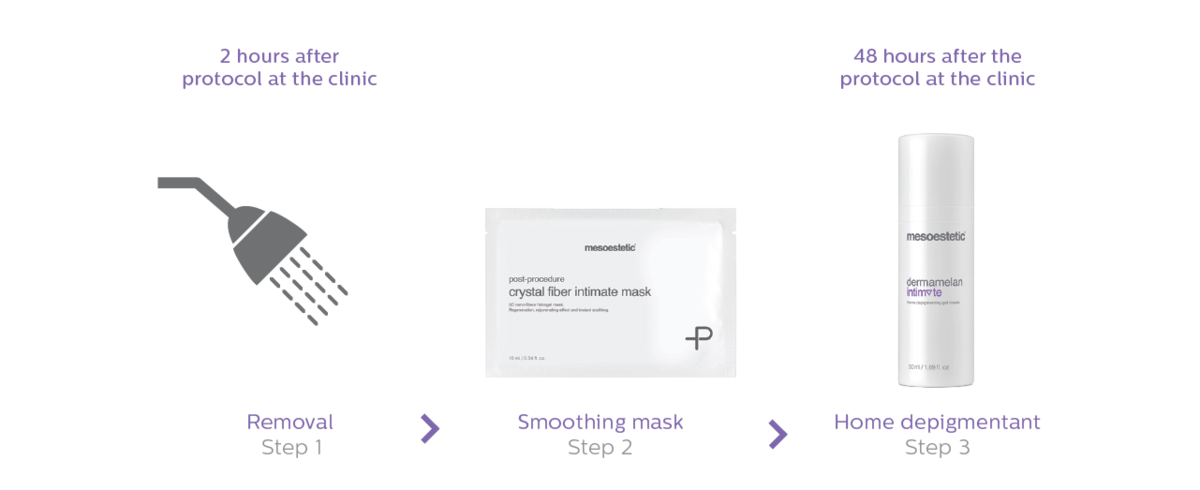 1.Crystal fiber intimate mask


Highly soothing hydrogel mask thanks to its combination of moisturising active ingredients which provide a feeling of comfort and well-being.
2.Home depigmenting gel cream



Home depigmenting gel that reduces and clarifies spots
.
Its gentle exfoliating action helps to remove dead cells, improves skin texture and helps to achieve a more uniform appearance.

High concentration of depigmenting active ingredients that act synergically,
maintaining and enhancing the effects of the intensive treatment.